If you had told me, "Dave, you're going to be working from home for at least 2 months straight, and you're not going to leave your house much during that time," one of my first thoughts (after checking our stock of coffee and immediately settling into my comfiest pair of sweatpants) would be "I'm going to read SO MUCH!"
As it happens, that has not been the case.
It's not like I have been binging Netflix, either. (Though I did watch The Mandolorian finally, which was *chef kiss*.) Rather, this time at home only confirmed what I already suspected:
I have a severe case of RADD–Reading Attention Deficit Disorder.
I keep jumping to new books, like hopping from rock to rock, after getting about 50 pages into several others. I was already reading 2-3 books at the same time when the stay-at-home order was given, and this was just exacerbated by being at home.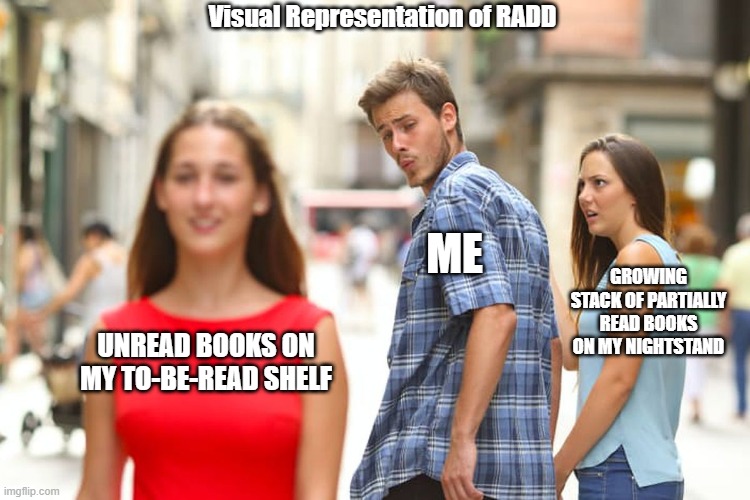 Complicating factors for RADD include:
Overwhelming TBR shelves (both physical and digital);
Easy access to new digital reading material (blogs, newsletters, online library catalog);
Continued use of social media; and
Being a parent of children under 3.
As a result, I'm about 1/4 to 1/3 of the way through several books at the same time, with a desire to start new books almost every day.
While I was able to push through and finish 3 books over the last 2 months (State of the Union, a novella by Nick Hornby; Susie, Ray Rhodes' outstanding biography of Susannah Spurgeon; and The Final Days of Jesus, Dr. Andreas Kostenberger's examination of Holy Week), the stack of partially-read books has grown rapidly.
So what has turned my head these days? Here's a quick look at my "current" reads:
The Man in the High Castle, by Phillip K. Dick
The Man Who Knew Too Much, by G.K. Chesterton
Five Minutes in Church History, by Steven Nichols
We Cannot Be Silent, by Al Mohler
On the Incarnation, by Athanasius
Holiness, by J.C. Ryle
Church Elders, by Jeramie Rennie
A Dream about Lightning Bugs, by Ben Folds
The Gospel Focus of Charles Spurgeon, by Steven Lawson
Church History in Plain Language, by Bruce Shelley
I'm not sure that's everything, but that's all that comes to mind at the moment.
On top of that, I just got a shipment of 4-5 books I'm eager to dive into that I purchased from T4G's Online Store. (Note: This sale is still available today only, but it's the last day of this sale so if you want to take advantage of deep discounts on great theology texts, jump on it right now. Not sponsored–I just hate for people to miss these deals!)
I'm convinced that RADD is a life-long affliction I'll just have to manage better in the future. 
Your thoughts and prayers are appreciated, as I struggle through this difficult period.
====
Your Turn: What books are you reading right now? And if you're a fellow RADD sufferer, let us know so we can encourage each other to try to *finish* a book this weekend!